Specialist contractors on site to carry out repairs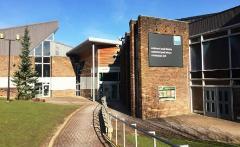 Published: 14 January 2020
The swimming pools at Eastwood Park Leisure complex are closed until mid-February to allow essential maintenance to be carried out.
Work to repair the large filters which ensure a safe swimming environment for customers got under way on 13 December and, due to unforeseen circumstances, it will take longer to complete than first anticipated.
Specialist contractors are on site and will work seven days a week to complete the work as quickly as possible.
The centre and theatre will remain open during these repairs, however, the swimming pools will be closed.
Public swimming is still available at Eastwood High, Barrhead Foundry and Neilston Pool throughout this period.
We apologise for the inconvenience that this closure has caused but the safety and comfort of our customers is vital and every effort is being made to re-open the pool at the earliest opportunity.
Last modified on 22 October 2020