Festive arrangements - rubbish and recycling
Find out the changes ahead of the festive period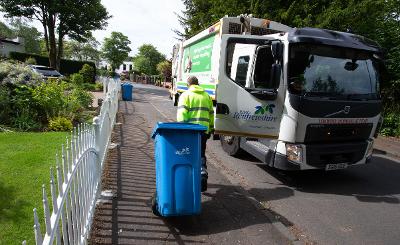 Published 7 December 2020
We have confirmed our plans for waste collection and recycling ahead of the upcoming festive period:
There will be no brown bin collections from Monday 21 December until Monday 18 January.
Grey, blue and green bins will be collected as normal, excluding Christmas and New Year's Day. If your bin would normally be collected on a Friday, please leave it out on the Monday following (28 December and 4 January)
Christmas trees will be collected from kerbs from Monday 11 January. Please leave your tree at the kerb on your normal collection day and the teams will be round to collect it that day or the day after. If you wish to dispose of your tree, or any other waste, earlier than this, you can take it to one of our recycling centres.
Special uplifts will be suspended from Monday 21 December until Monday 11 January. You will be able to book from 2pm, Thursday 7 January by calling us on 0141 577 3001.
Barrhead recycling centre will be closed on Christmas, Boxing, New Year's Day and Saturday 2 January. Greenhags will only be closed on Christmas and New Year's Day. Remember to make a booking before travelling to the sites.
For the festive period, the bin collections will be as follows:
Week commencing 21 December - Green (no collection on Christmas Day - please leave out from 28 December)
Week commencing 28 December - Blue (no collections on New Year's Day - please leave out from 4 January)
Week commencing 4 January - Grey
Week commencing 11 January - Green
If you have any queries, you can contact the team by emailing cleansing&recycling@eastrenfrewshire.gov.uk.
Last modified on 6 January 2021