Find out how to replace a bin, box or bags that have been damaged or lost.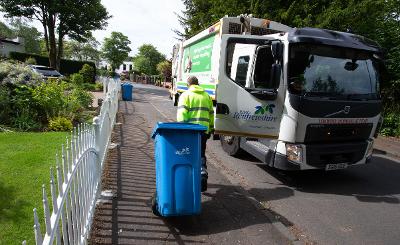 Replacement bins
If you need a complete set of 4 new bins, the charge is £127.05. You must pay this in advance of delivery.
Request an additional grey non-recyclable bin
Each household is provided with one 240 litre grey bin. You can request an additional grey bin if you meet the following criteria:
6 or more permanent residents
2 or more children in nappies
a resident has a medical condition that results in waste such as incontinence pads or large amounts of dressings
exceptional circumstances at the discretion of the waste department
Please note, you'll be required to fill in a waste diary as part of your application to provide evidence your household requires a second bin.
If you're successful, we'll provide an additional grey bin for 2 years and you'll need to reapply after this time.
You'll also need to sign a declaration stating you'll continue to use the recycling service. If you don't use the recycling service your additional bin could be removed.
How to request an additional grey bin
Email: customerservice@eastrenfrewshire.gov.uk
Phone: 0141 577 3001
Delivery of bins
You should receive your new or replacement bins within 2 weeks.
Last modified on 18 June 2020