We offer different groups for young people with additional support needs to develop new skills and meet new friends.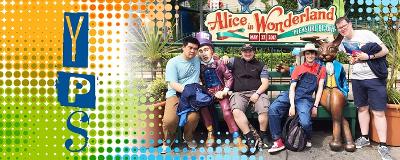 Additional support needs group timetable
Young people need to be referred to the groups.
Some groups have a waiting list.

Monday Night Group
This group is for young people with additional support needs to take part in fun activities, hang out and make friends.
Activities include:
Xbox
Playstation
Wii
arts and crafts
cold baking
sensory room
team games
hanging out and making friends
Rule Breakers
This is a group where young people choose the activities they take part in.
Activities include:
drama
work experience
health and relationship information
trips out with friends
Fantastic Friends Friday
This group for young adults is run by a parent and young person's committee.
The group runs every Friday and activities include:
trips to cinema, theatres, restaurants and pubs
arts and crafts
quizzes
cooking
drama
residential trips
The group funds itself and holds regular fundraising events to keep the group running.
Chill and Chat
This group gives young people a safe place to hang out with friends on Wednesday afternoons.
They hang out in local coffee shops, have beauty treatments and just chill and chat.
Autism Girls Group
This group is for girls only with high functioning autism or aspergers.
They can come along to hang out with like-minded people and make friends. The girls choose their own activities and can adapt these to suit their own needs and abilities.
Activities include:
arts and crafts
science experiments
team games
computer games
singing and dancing
Holiday Programme
This club runs during the Easter and summer holidays.
The group aims to spend much time as possible outdoors and away from the building.
Activities include:
go-karting
laser tag
10 pin bowling
cinema
den building
abseiling
grass sledging
Young people are referred to this programme by the Inclusive Support Team.
Contact us
Last modified on 1 July 2020