Flag raising ceremony to mark Merchant Navy Day in East Renfrewshire
East Renfrewshire Council today raised the Red Ensign flag to mark Merchant Navy Day which will be held on Saturday 3 September.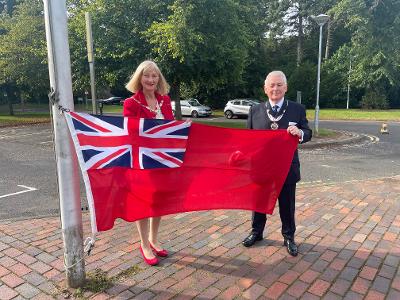 Published: 2 September 2022
Provost Mary Montague held an event at the Council Headquarters in Giffnock to commemorate the occasion and was joined by Deputy Lord-Lieutenant Kenneth Ross who raised the Merchant Navy Day flag.
Guests including local dignitaries, elected members and members of the local community were welcomed by Provost Montague to the event.
Provost Mary Montague said: 'I'm delighted to be here today to support this important event and raise the Red Ensign flag on behalf of everyone in East Renfrewshire. Flying the Red Ensign gives us the opportunity to honour and remember the sacrifices of the, often forgotten and invisible, but very hard-working, Merchant Navy seafarers who keep the UK's imports and exports moving.
'A flag raising ceremony to mark Merchant Navy Day is usually an annual event held by the Council but COVID-19 restrictions over the past two years meant our usual plans were not able to go ahead, so I'm pleased we are able to mark Merchant Navy Day as normal this year.
'The 3rd of September is a significant date in the history of the Merchant Navy and the UK, as it marks the beginning of the Second World War. Without the brave men and women of the Merchant Navy during the World Wars, the UK would not have been able to survive and defend ourselves to the ability that we did.
'I'd also like to give my thanks to our modern day seafarers who are responsible for up to 95% of the UK's imports. They undertook absolute vital work during the pandemic to ensure that essential goods and medicines reached the UK and this continues today.'
Last modified on 6 September 2022