Thank you to East Ren's army of volunteers
Volunteers' Week being celebrated from June 1-7.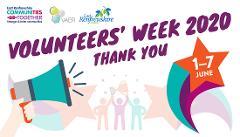 Published: 1 June 2020
East Renfrewshire's army of volunteers who have supported communities during the Covid-19 pandemic will be recognised as part of Volunteers' Week.
The national event runs from 1-7 June every year to celebrate the contribution millions of people make across the UK through volunteering.
And this year, more than ever, Volunteers' Week will focus on showing thanks and gratitude to the people who have volunteered to support during these unprecedented times.
In East Renfrewshire, more than 1,500 volunteers came forward to offer support for vulnerable people within their communities.
These community champions have delivered prescriptions and shopping to 836 people, made re-usable face masks and scrubs, and supported vulnerable residents over the phone.
A dedicated Community Hub was set up by Voluntary Action East Renfrewshire (VAER), together with East Renfrewshire Council and Health and Social Care Partnership, to coordinate the wonderful community response across the area.
More than 1,200 calls have been received by the team at the Hub, supported by a team of volunteers and over 30 local organisations, community and Facebook groups delivering much-needed support and services in their area.
The Council's Humanitarian Hub, which was staffed by community volunteers and Council staff redeployed from other roles, has also delivered 1,535 food packs to residents in the most at risk category.
Councillor Tony Buchanan, Leader of East Renfrewshire Council said: 'We couldn't have imagined life being turned upside down the way it has due to this global pandemic, but the response by our communities has been absolutely phenomenal and humbling. It's given me great pride to see the way that communities have pulled together to help out family, friends and neighbours during these most trying times. From collecting shopping and prescriptions, to lending a friendly ear to make sure that neighbours are well, so many people have played their part. During Volunteers' Week it's important to show our thanks and I hope that these foundations will help create stronger communities for the future to make us more resilient. Well done to all East Renfrewshire volunteers - you're doing an amazing job.'
Ruth Gallagher, Chief Officer, Voluntary Action East Renfrewshire said: 'VAER has been supporting volunteers and volunteering for over 20 years, and during that time we have seen the numbers of volunteers growing steadily. Local people looking to give something back, support the most vulnerable, share their life experience and skills, or simply having fun in their local community. Volunteering is not new in East Renfrewshire, but the team at VAER has been blown away with the sheer numbers of compassionate, caring, wonderful people coming forward to help in whatever way possible during this challenging time. The residents of East Renfrewshire care about each other and will continue to support each other when this situation passes. Thank you to all the wonderful volunteers who have worked hard over the past year.'
A #ThankYouEastRen social media campaign will take place across the Council's and VAER social media channels throughout Volunteers' Week, as well as posters and banners being displayed across East Renfrewshire to say thank you to everyone who has played their part during the Covid-19 pandemic.
Last modified on 22 October 2020