Neilston Agricultural Society awarded with QAVS
Neilston Agricultural Society has been honoured with the Queen's Award for Voluntary Service, the highest award a voluntary group can receive in the UK.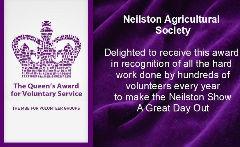 Published: 2 June 2020
Neilston Agricultural Society volunteers have been running a local annual agricultural show since 1825. Now attracting up to 5000 visitors every year, the Show is one of the most important days of the year for the local community, as well as being an important trading and community event for farmers across SW Scotland.
Neilston Agricultural Society is one of 230 voluntary groups across the UK to receive the prestigious award this year. The number of nominations remains high year on year, showing that the voluntary sector is thriving and full of innovative ideas to make life better for those in the local area.
The Queen's Award for Voluntary Service aims to recognise outstanding work by volunteer groups to benefit their local communities. It was created in 2002 to celebrate the Queen's Golden Jubilee. Recipients are announced each year on 2nd June, the anniversary of the Queen's Coronation.
Representatives of Neilston Agricultural Society will receive the award from Colonel Peter McCarthy, Lord Lieutenant of Renfrewshire later in the year.
Colonel McCarthy said: 'I am delighted that this group's work has been recognised in this way. The Neilston Agricultural Show has evolved over the years to become an exceptional community volunteering activity that is providing invaluable education to adults and children about farming and country life.This group is a marvellous example of decades of outstanding community volunteering.'
Last modified on 22 October 2020