Pupils dedication recognised with impressive results
Pupils across East Renfrewshire have excelled across the board, with another year of outstanding SQA results.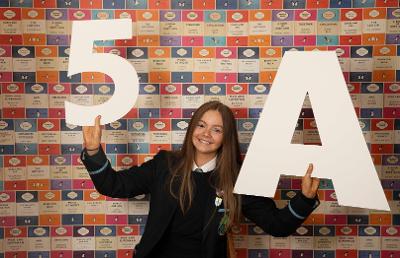 Published: 4 August 2020
Attainment has continued to rise across the area, with very strong National 5 results and record-breaking performances in S5 and S6.
Thousands of children from across East Renfrewshire celebrated their results today (Tuesday 4 August), although in the most unprecedented of circumstances due to the impact of the global Covid-19 pandemic.
With the Scottish Government announcing in March that this year's SQA exams would not go ahead, it has meant a new experience for teachers and pupils to ensure that all the hard work and dedication which had already been put in was fairly recognised.
East Renfrewshire Council's Convener for Education and Equalities, Councillor Paul O'Kane, heaped praise on staff and pupils across the area for their resilience during these challenging times.
Councillor O'Kane said: 'It has been a year like no other, especially for our pupils receiving SQA results today. No one could have foreseen the cancellation of the exam diet, however, it is absolutely right that our pupils' hard work and dedication has been recognised in today's results. All East Renfrewshire's schools have continuously improved teachers' skills in assessing pupil progress. As such our confidence in the rigorous, evidence based processes our schools have had in place for a number of years for pupils' estimates, combined with the knowledge that staff have of their learners, have ensured that the hard work of all our young people has been rightly and fairly recognised through the alternative certification model the SQA put in place this year.'
'Staff, pupils and parents are to be commended for the resilience they've shown during these trying months and I'm delighted that the results awarded to pupils across East Renfrewshire are so positive. We have a track record of our pupils' delivering excellent exam results and our constant drive to achieve equity and excellence has stood today's pupils in good stead under these most unusual circumstances. Well done to everyone receiving results today and we look forward to returning to school next week.'
Key achievements include:
77% of S4 pupils achieved 5 or more qualifications at National 5 or better (similar to the previous year and the second best performance to date)
94% of S4 pupils achieved 5 or more qualifications at National 4 or better (similar to the result at this stage last year)
21% of S4 pupils achieved 8 or more grade A passes at National 5 (301 pupils).
Woodfarm High School and Eastwood High School achieved their best ever S4 results. The proportion of S4 pupils in St Ninian's High School who achieved 5 or more awards at National 5 also increased and was the second highest result ever.
85% of S5 pupils achieved 1 or more Highers (up from 81% last year)
69% of S5 pupils achieved 3 or more Highers (up from 66% last year)
46% of S5 pupils achieved 5 or more Highers (up from 44% last year)
Barrhead and Woodfarm High Schools had their best results for 1 or more and 3 or more Highers, whilst Eastwood had its best ever S5 results across all the key measures.
222 young people across the authority achieved 5 or more Highers at grade A in S5.
42% of S6 pupils achieved 1 or more Advanced Higher awards - the area's best ever performance (up from 40% last year)
Mearns Castle High School High had their best ever results for the proportion of S6 pupils achieving 1 or more Advanced Highers.
Mhairi Shaw, Director of Education at East Renfrewshire Council, said: 'We have put in place the processes and procedures to ensure that we are able to support pupils at every step along their educational journey. Our focus on providing excellent experiences is clearly having an impact as year after year our pupils continue to produce outstanding results. It has certainly been a year we will never forget, but I'm delighted and confident that our systematic approach to supporting pupils has ensured that their achievements have been fairly recognised in today's exam results. These results are testament to the hard work of pupils, teachers and parents and I congratulate you all. It's also extremely pleasing that once again we have successfully tackled the poverty related attainment gap. This year there was a significant increase in the proportion of S5 pupils from the most deprived areas achieving one or more Highers, and improvements in the gap between pupils from the most and least deprived areas who achieved 5 or more National 5 qualifications in S4.'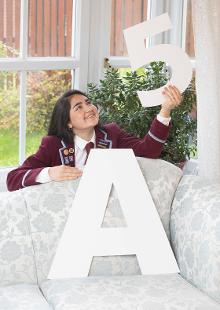 Zainab Alani was overjoyed when her results came through and confirmed she had gained 5 As at Higher (English, Maths, French, Human Biology, Chemistry). It has been a tough year for the 17-year-old St Ninian's pupil, having been diagnosed with a rare autoimmune condition called myasthenia gravis - a condition which affects just 15 people in every 100,000. The condition causes muscle weakness and fatigue and there is no cure. Despite these challenges, Zainab worked extra hard to ensure she sat all her prelims and was preparing fully for the exams before they were halted.
This included returning to school after undergoing intensive surgery in early December 2019 at the Golden Jubilee Hospital. The operation - a thymectomy to remove the thymus which controls the immune system - was carried out to help minimise the symptoms of her condition and give her the best quality life possible.
Zainab, from Newton Mearns, said: 'When I was diagnosed with the condition it was quite frightening and then as part of my management plan I had to go in for surgery. I was in the hospital for five days after the operation and it took me a long time to recover from it, but as soon as I was able I wanted to get back to school so that I could get some normality back in my life. Having the support of my family throughout has been amazing and the school have given me a lot of support too - I can't thank all the teachers enough. Now I want to pursue a career in medicine to give back to all the amazing nurses and doctors who have cared for me throughout this difficult time.
'I'm so delighted that I've got the results now which will hopefully help me go in the direction that I want to. When the exams were first cancelled it was a real shock because it has never happened before - not even during the War. So even though this pandemic has turned our lives upside down, I'm delighted that all the hard work I've put in has been recognised. It's been a really difficult year and I've had so many things to deal with but I've stayed positive and am delighted with my results.'
Zainab will return to St Ninian's, in Giffnock, for 6th Year to study Advanced Highers in Biology, Chemistry and Maths.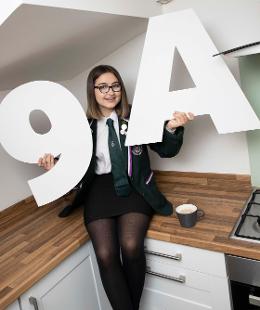 St Luke's High pupil Elise Kelly is now aiming for a career in which she can make a difference to other people's lives - and after landing 9 As in her National 5 subjects is right on track. The 15-year-old from Neilston was delighted when the text message came in and confirmed she had been recognised with top grades across all the subjects she'd studied (English, Maths, French, History, Biology, PE, Practical Cookery, Drama and Chemistry). Despite it being an unprecedented year, Elise has kept busy throughout lockdown by volunteering at a local charity to prepare food parcels for vulnerable families.
Elise said: 'When the exams were first cancelled I was quite scared about what was going to happen, and because this was meant to be my first year of exams I was a bit unsure about what it would mean. It's been a strange experience and not what I was expecting obviously, but because I knew the results were going to be based on work from throughout the year I knew I had been trying hard and so hoped I'd get the results I wanted. So I'm absolutely delighted! I'm already hoping to go into a career in law, or any job where I can help people and make a real difference. I volunteer a lot because it's really important to me that people are treated equally and have the same rights.'
Throughout lockdown Elise was part of a team volunteering with charity IncludeMe2 - which is based in Barrhead and provides support for people with an additional support need, learning, physical disability, or mental health condition, suffering isolation or loneliness whatever their age. She was involved in preparing, packing and delivering food parcels as part of the charity's community meals programme, which continues to provide food to those hit hardest by the coronavirus pandemic.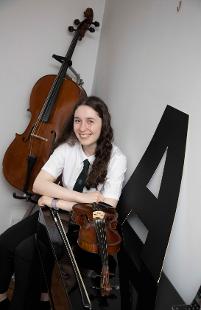 Jennifer Jones was delighted to get 5 As at Higher (English, Maths, Computing, Design Manufacture and Music) and despite still keeping her options open is now considering a potential career in film making. The 17-year-old St Luke's High pupil had been through the exams experience last year, gaining 9 As in her National 5s, and admits it was strange to receive her results having not sat an exam.
She said: 'I was anxious about not having the exams but I spoke to my teachers about it and they reassured me that I'd worked hard throughout the year and would get the grades I deserved. I'm so happy to have got 5 As but it felt weird getting my results and I'd not actually sat the exams. I was less nervous getting the results though because I'd been through it last year and know what it's like waiting for the text to come in.'
Looking ahead, Jennifer will go back to St Luke's for 6th year to do Higher Drama, Advanced Higher Computing and Advanced Higher Design Manufacture. She is keeping her career options open and added: 'I hope to go to university but I'm stuck between quite a few ideas at the moment. I like film-making and the idea of directing, so I'm going to look into that more but I would also maybe consider teaching. I'm looking forward to going back to school because I've missed it and being able to see all my friends.'
Eden Thornton was feeling a sense of relief and delight when her results came through to her phone to confirm 5 As at Higher (Art, Chemistry, English, Maths, Physics). The Williamwood High pupil is now setting her sights on a career in engineering and will return for a 6th Year to do Advanced Highers in Maths, Physics and Maths of Mechanics.
The 17-year-old, who plays football for Giffnock Soccer Centre in her spare time, said: 'I was so delighted when I saw my results and there was definitely a huge sigh of relief that I had achieved the grades I wanted. We had no control over the final exam this year so it was certainly a different experience. I was still nervous waiting for my results to come through but it's rewarding to know that all the hard work I had put in through the year has been worth it. When the exams were first cancelled it seemed like a bit of an anti-climax after all the work that had been done preparing, but now it's absolutely been worth it. After sixth year I hope to go onto university and am looking at engineering and physics courses as I really enjoy the problem solving element of these and it gives me great satisfaction when you solve the problem.'
Last modified on 15 October 2020