2020 marks 75 years since the liberation of Auschwitz-Birkenau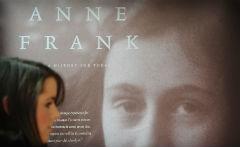 Published: 20 January 2020
As part of our Holocaust Memorial Day commemorations, there will be a moving exhibition in Carmichael Hall illustrating Anne Frank's life.
The exhibition enables visitors to grasp the human consequences of persecution and war, covering Anne Frank's diary and the history of the Frank family, the introduction of the Nazi racist state and the victims and appalling consequences of the Holocaust.
It will be in place from 11am until 8pm on Tuesday 28 January in Eastwood Park's Carmichael Hall. Entry is free.
There is also an evening memorial at Eastwood Park Theatre on Tuesday 28 January at 7.30pm. This will be an evening of music and stories which highlight the true horror of the Holocaust and subsequent genocides.
If you'd like to attend this memorial, email margaret.pettigrew@eastrenfrewshire.gov.uk.
Last modified on 22 October 2020