Help shine a light on East Renfrewshire's community heroes
The search is on to crown East Renfrewshire's citizen of the year 2020 as nominations for this year's Provost's Award are now open.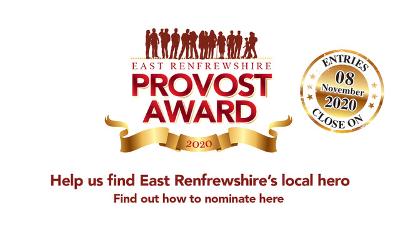 Published: 26 October 2020
The Provost's Award is an annual opportunity to thank and honour dedicated volunteers who have contributed to the local community for their invaluable work, which makes a difference to the lives of many others in East Renfrewshire.
Provost Jim Fletcher said: 'I always look forward to reading all of the nominations for citizen of the year each year, we are so lucky to have so many devoted people who go the extra mile to give back to their local community, so it's always a tough choice for the judging panel. But it is especially important this year that we are able to recognise a community member who has continued to volunteer during what has been an extremely challenging year for everyone. So if you know of an unsung hero who deserves to be acknowledged, please complete a nomination form.'
In 2019, community champion, Evelyn Baxter, won the Provost Award. She was honoured for the fundamental role she plays in Busby Memory Lane, which was launched in 2016 to give more opportunities to older people.
Nominations for citizen of the year can be made online. Deadline for nominations is 8 November 2020 and the winner will be invited to attend a virtual award presentation at the Council meeting on 16 December 2020.
.
Last modified on 2 November 2020