East Renfrewshire road maintenance investment given the green light
In an ongoing effort to maintain and improve roads, East Renfrewshire Council has today (13 May 2021) approved an additional investment of £3million for roads and pavement resurfacing across the local authority.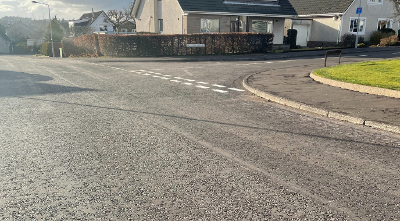 Published: 13 May 2021
This programme, which will see improvements at 73 sites across East Renfrewshire, will be carried out over and above the existing annual roads resurfacing works which were approved by the Council in March 2021.
All of East Renfrewshire's roads are assessed and reported on nationally each year. The Council is currently ranked second in Scotland for the condition of its A class roads, which are classed as the most important routes for residents and visitors. B and C class roads are better than the Scottish average for both categories.
In its 2019/20 budget, the Council committed an additional £15m capital investment for roads infrastructure over the following 5 years. The 2021/22 roads maintenance programme will use the additional £3million of resources to improve the condition of roads throughout East Renfrewshire.
The Council's A and B class road network is classed as in a relatively good condition so the majority of the additional £3m allocation for 2021/22 has been directed towards residential roads.
A number of factors are taken into consideration to prioritise which roads are chosen for the programme each year. This includes the structural condition of the road or pavement, usage, maintenance costs for previous years, public feedback and geographic spread.
Roads and pavements in this year's additional works programme cover a wide area across the whole authority including: Robertson Street in Barrhead, Hillside Road in Neilston, Evan Drive in Giffnock, The Oval in Stamperland, Overlee Road in Clarkston, Humbie Road in Eaglesham and Broom Road in Newton Mearns.
Councillor Tony Buchanan, Leader of East Renfrewshire Council, said: 'It's great to hear our A class roads are continuing to rank high in Scotland, and our B and C class roads are performing better than the Scottish average. We want to continue to improve on our ranking so I am delighted my fellow Councillors today agreed to further invest in roads in East Renfrewshire. We listened to the public's views and feedback when choosing the roads and pavements for this year's works, and the improvements will make a significant difference to our transport network. Despite the difficulties that Covid-19 has presented, we were still able to complete 35 road resurfacing projects in 2020/21. The additional investment for this year will not only be beneficial to our residents but vital to our local economic recovery as businesses re-open following Covid-19 and we see an increase in footfall as more people return to East Renfrewshire to work and visit.'
Full list of resurfacing works:
Road resurfacing
B773 Darnley Road & Dovecothall roundabout, Barrhead
B775 Gleniffer Road (Old Barn junction)
Ralston Road, Barrhead
Colinbar Circle, Barrhead
Park Avenue, Barrhead
Rockmount Avenue, Barrhead
Cogan Street, Barrhead
Robertson Street, Barrhead
Campsie Gardens, Clarkston
Patterton Drive, Barrhead
Craigton Drive, Barrhead
Ochil Drive, Barrhead
Hillside Road, Barrhead
Cheviot Avenue, Barrhead
Fintry Crescent, Barrhead
Hillside Road, Neilston
Bank Street, Neilston
Manse Road, Neilston
Fraser Avenue, Newton Mearns
Chisholm Drive, Newton Mearns
Holehouse Terrace, Neilston
Harelaw Road, Neilston
Glen Mark Road, Neilston
Bulloch Avenue, Giffnock
Evan Drive, Giffnock
Queensberry Avenue, Clarkston (Greenwood Road to Hillview Drive)
Hathaway Drive, Giffnock
Stratton Drive, Giffnock
Penrith Avenue, Giffnock
Ruthven Avenue, Giffnock
Douglas Avenue, Giffnock
The Oval, Stamperland (including Orchy Drive/Gardens)
Benview Road (Seres Road to A727 Clarkston Toll, Clarkston)
Greenwood Road, Clarkston (Richmond Ave to Eaglesham Rd)
Vardar Avenue, Clarkston
First Avenue, Netherlee
Hillview Place, Clarkston
Lothian Drive, Clarkston
Moray Drive
Overlee Road, Clarkston
Linwood Avenue, Clarkston
Rockburn Drive, Clarkston
Gordon Road, Netherlee
Richmond Avenue, Clarkston
B764 Eaglesham Moor Road, Eaglesham
Broomfield Avenue, Newton Mearns (Castlehill Drive to Castleton Drive)
Sandringham Avenue, Newton Mearns
Broom Rd, Newton Mearns
Castleton Grove/Avenue/Gate, Newton Mearns
Craighlaw Avenue, Waterfoot
Paidmyre Road, Newton Mearns
Newtonlea Avenue, Newton Mearns
Humbie Road, Eaglesham (Floors Rd roundabout to Bonnyton Moor Rd roundabout)
Beech Avenue, Newton Mearns
Over Enoch Road, Eaglesham
Park Farm Road, Eaglesham
Floors Road, Waterfoot
Titwood Road, Newton Mearns
Blackwood Hill Road (The Dunwan Road), Eaglesham
Pavement resurfacing
Glen Creran Crescent, Neilston
Glen Falloch Crescent, Neilston
Waulkmill Avenue, Barrhead
Moray Drive, Clarkston
The Oval, Clarkston
Torburn Avenue, Giffnock
C1 Mearns Road, Clarkston (A727 Busby Road to Flenders Road part only)
Benview Road, Clarkston (Seres Road to A727 Busby Road)
Lothian Drive, Clarkston
Rockburn Drive, Clarkston
Campsie Gardens, Clarkston
Kenmure Road, Newton Mearns
Sandringham Avenue, Newton Mearns
Gordon Crescent, Newton Mearns
Last modified on 8 February 2023