East Renfrewshire high school lands prestigious national award
St Ninian's staff recognised for professional learning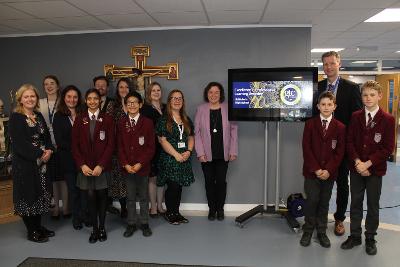 Published: 19 May 2022
St Ninian's High School, in East Renfrewshire, has been presented a prestigious award by the General Teaching Council for Scotland (GTC Scotland), the teaching profession's independent registration and regulation body.
This Excellence in Professional Learning Award for Schools and Learning Communities celebrates and recognises establishments that support and lead professional learning which has a significant and sustained impact on teachers, classroom practice and the learning of children and young people.
St Ninian's High joins 19 schools and teacher learning communities from across Scotland that have received the award.
Dr Pauline Stephen, Chief Executive and Registrar, GTC Scotland said: 'It is vital that teachers are able to learn within a culture of professional trust and positive relationships. Our award recognises how teachers' professional learning is being supported in our schools and learning communities. The commitment to learning throughout a teacher's career helps ensure trust and respect in the teaching profession and positively impacts on the experiences and outcomes for learners.'
Mark Ratter, East Renfrewshire Council's Director of Education, added: 'It is fantastic that the approach taken to continuous professional development at St Ninian's High School has been recognised with this award. Staff across all our schools are committed to improving the experiences for our children and young people and this national recognition highlights the strides being taken on an ongoing basis. Professional learning is a continuous cycle for staff throughout their career and it is so important that our teachers are engaged in this process. By providing rich learning opportunities for our staff it helps to build teacher capacity and allows best practice to be shared. Well done to everyone involved in achieving this award.'
Last modified on 19 May 2022