Information about placing requests in East Renfrewshire and how to apply.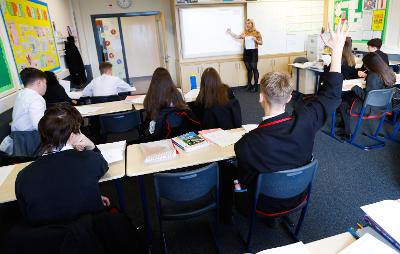 You've the right to make a placing request for your child to be educated in a school other than your local catchment school.
You need to submit a placing request if:
you wish for your child to attend a school other than your local catchment school
you don't live in East Renfrewshire
you wish to apply for a place at Calderwood Lodge Primary School
your child already attends an East Renfrewshire school and you want them to transfer to another school within East Renfrewshire
at the point of transferring from primary to secondary school you wish for your child to attend a secondary school other than your local one
You also need to apply for a placing request if you live within the catchment area of the school your child attends and, at a later date, move out of the catchment area. This is called a request to remain.
If you're making a placing request for Calderwood Lodge Primary School, a different set of criteria is used to allocate places. Please contact the Education department on 0141 577 3246 for further information.
Before you begin
You need to fill out a separate application form for each child
You can only apply for 1 school at a time
You can apply for a place in the current session at any time
You can apply for a place at the start of the new school session in August between 1 December and 31 January.
There's no waiting list for placing requests
Inform the head teacher of the school that your child attends or has applied to attend of your intention to make a placing request
If your placing request is granted, any place your child currently holds in an East Renfrewshire school is released and may be allocated to another child immediately
Apply
Applications for school places beginning August 2021 should be submitted between 1 December 2020 and 31 January 2021. Any applications for August 2021, which are received before 1 December 2020 will be automatically withdrawn.

Download a placing request application form [98.39KB].
Processing your application
We'll let you know we've received your application within 10 working days. If you don't hear from us within this timeframe, please contact the Education department.
Once we process your application, you'll receive a decision in writing.
Successful applications
If your placing request is accepted, your child should enrol at the school within 4 weeks of the date of your decision letter.
A successful application:
for primary school is valid only until the end of primary 7.
for primary school doesn't guarantee a place in the associated secondary school
for secondary school is valid until the child leaves school
doesn't guarantee placing requests for future siblings
Please note, we won't provide transport for pupils attending a school as the result of a successful placing request.
Unsuccessful applications
If your application is unsuccessful, you'll be notified and advised of the reason why.
You can appeal an unsuccessful application by writing to the Education department within 28 days of the date you're notified of the decision.
If the Appeals Committee refuses your request, you've the right of further appeal to the Sheriff in which case you may wish to seek legal advice.
You can only appeal a decision regarding a particular school once a year for each of your children.
If you decide to appeal, you won't be able to make another placing request until the appeal is heard or you withdraw it.
Contact us
Phone: 0141 577 3246
Last modified on 27 October 2020