Report a street light or traffic light fault online.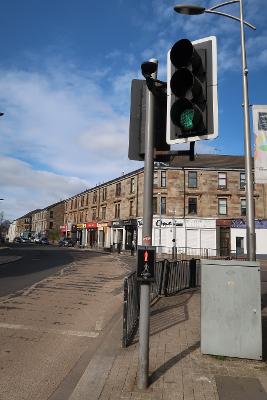 Report a non-emergency fault
You can report faults with:
bollards
pedestrian crossings
single street lights
traffic light bulb out
Before you start
Tell us the unit number. This is a black number on a white label on the front of the unit. For example, R1, S1, RP1.
If you don't have the unit number you can give us a clear description of where the unit is.
The form will take around 2 minutes to complete.
Report a non-emergency lighting fault.
Report an emergency fault
Phone 0141 577 3001 during office hours.
Phone the Roads and Lighting Faults (RALF) helpline on 0800 373635 out of office hours and public holidays.
Emergency faults
These include:
Traffic lights and pedestrian crossings
Poles knocked down
Traffic lights are too dark
Report temporary traffic light problems to the company carrying out the work.
Street lighting and signs
Door missing from unit exposing wires
Large sections of street lights are too dark
Damage to lighting or sign pole
M77 and A726 roads
These roads are looked after by private contractor - Connect Roads.
Phone Traffic Scotland on 0800 028 1414 for enquiries about these roads.
Fault response times
Type of fault
Response time
Emergency faults
Within 2 hours
Non emergency traffic light faults
Within 48 hours
Non emergency street light faults
Within 5 working days
Underground faults

Scottish Power look after these.

We work with them to fix these faults as soon as possible.
Contact us
Email: roads@eastrenfrewshire.gov.uk
Phone: 0141 577 3001
Last modified on 18 June 2020