Council delivers almost 34,000 free school meals
Dedicated staff at East Renfrewshire Council have delivered food packs to make almost 34,000 free school meals for eligible children and young people since schools shut due to coronavirus.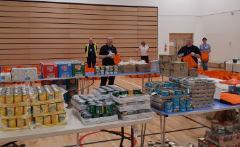 Published: 27 April 2020
As soon as schools closed on Friday 20 March, the team quickly established a food hub at Maidenhill Primary to provide a central distribution point for all the packs.
Each week, including over the spring holiday period, the packs are provided to homes across East Renfrewshire, at all times taking into account dietary requirements of the recipients.
A committed team of 12 catering staff work daily to put together the packs and these are then delivered by the council's environment staff.
The packs all provide fresh, nutritious food and also include recipe cards to support the families to make meals from the ingredients within the packs.
Councillor Paul O'Kane, Convener for Education and Equalities said: 'The hard work and dedication of the staff supporting these families with food packs is unbelievable. I have been so impressed by the many council staff going above and beyond and this is just one example of how we are working tirelessly to support our residents. During these challenging times, ensuring all our children and young people are able to eat healthy and nutritious meals is so important. So this work to deliver these vital food packs to homes across East Renfrewshire is absolutely fantastic. Well done to everyone involved and keep up the good work.'
Last modified on 22 October 2020