Humanitarian Food Hub opens
Helping those in need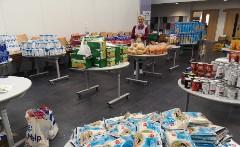 Published: 9 April 2020
East Renfrewshire Council has opened a new Humanitarian Food Hub at Barrhead High School to distribute food parcels to local people in need.
Around 20 staff, including volunteers redeployed from other parts of the council, are working at the school to make up the parcels and then deliver them to people across the area.
The food has come from the council's own supplies and East Renfrewshire has also received help from FareShare which distributes surplus food from supermarkets. Local branches of Asda and Tesco have also helped by donating carrier bags.
Over 100 weekly food parcels have already been distributed by drivers from the council's housing team and social workers who take the supplies direct to their clients.
The food hub is open 11am-3pm weekdays (excluding bank holidays) and replaces an existing temporary food distribution service which had been operating out of the council's office on Barrhead Main Street.
The new hub supplements existing foodbanks elsewhere in local communities which residents are also encouraged to keep using when in need.
An East Renfrewshire spokesperson said: 'It's been a tremendous effort by staff in many different parts of the council and East Renfrewshire Culture and Leisure to get this new hub up and running. These food parcels of essential items will help support those people who are struggling financially because of the impact of Coronavirus.'
Social distancing is being observed by staff working at the new centre and by those making the deliveries.
If you would like to enquire about receiving a food parcel please phone the council's customer services team on 0141 577 3001 or email customerservices@eastrenfrewshire.gov.uk.
Last modified on 3 November 2020