Council to host Prepare to Care course
We're holding a Prepare to Care training course in January for anyone looking to start a career in the care sector.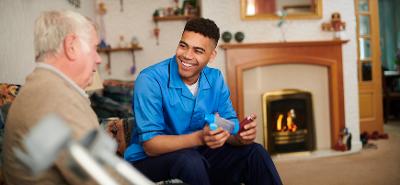 Published 12 December 2022
The two-week course, which is free of charge and open to East Renfrewshire residents, is hosted by the Council's employability service, Work EastRen, at their Lowndes Street office in Barrhead from Monday 9 until Thursday 19 January. The first week timings are 10am until 2.30pm. The following week it is two full days, then 10am until 2pm for the remainder.
The training is funded by the Scottish Government's No-one Left Behind programme and will cover different aspects of care, emergency first aid, food safety and a range of employability topics. The first aid and food safety elements are both accredited qualifications.
Following the training, the team will be holding a care recruitment fair on Wednesday 25 January at the Barrhead Foundry (3-6pm) where there will be a range of employers covering social care and care homes, including the East Renfrewshire Health and Social Care Partnership. Anyone who completes the course will be guaranteed an interview.
Environment Convener, Councillor Danny Devlin said: 'A career in care is hugely rewarding - you provide a lifeline to vulnerable residents in East Renfrewshire. So if you're interested in a role in care, then I'd encourage you to get in touch with Work EastRen and sign up to the course. Whether you're unemployed, looking to upskill or want a change in career, this training is a fantastic opportunity.'
You can find out more about the training and sign-up by emailing worker@eastrenfrewshire.gov.uk or calling 0141 577 8438. Deadline for signing up is Friday 6 January.
Last modified on 12 December 2022