You can apply for a National Entitlement Card for free or discounted travel if you're disabled or over 60.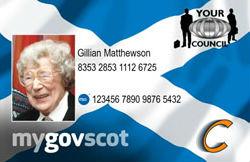 What is it a National Entitlement Card?
A National Entitlement Card (NEC) card gives you free travel on most bus services and discounts on some train and subway fares.
Read more about free or discounted travel on the SPT website.
It can also be used for a:
bus pass
library card
leisure membership card
Young Person's card for 11 to 25 year olds
What you need to apply
You need:
a recent passport sized photo.
Proof of age such as a:
Birth certificate
Passport
Photo driving license
Proof of entitlement
Please note, award letters should be dated within the past 12 months and show the applicant's name and address.
Proof of address such as a:
current council tax bill
council rent book
gas, electricity or phone bill dated within the past 3 months
bank statement dated within the past 3 months
current television licence
letter from residential home confirming you live there
letter from the Home Office or Immigration Office
letter from school/college/university
How to apply
Over 60
If you're age 60 or over you can apply online for a disabled concessionary travel card.
Alternatively, you can get an application from a post office, an SPT travel centre or Buchanan Bus Station.
Applications can be made from 14 days before your 60th birthday.
Once you've filled out your application, return it to a post office or SPT travel centre.
Disabled
You can apply at an SPT travel centre, Buchanan Bus Station or your local council.
Find out on the Transport Scotland website if you qualify.
Processing your application
Once your application has been received with all the correct documentation, your NEC will be issued to your home address within 14 days for an over 60 application and 15 working days for a disabled application.
Contact us
Email: customerservices@eastrenfrewshire.gov.uk
Phone: 0141 577 3001
Last modified on 19 October 2020