Council Leader's Covid-19 appeal to residents
We must stick to the rules to stop the rise in cases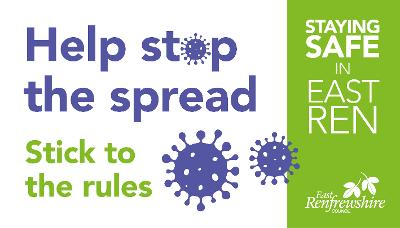 Published: 29 October 2020
East Renfrewshire's Council Leader has made a direct appeal to residents in an attempt to curb the rising number of Covid-19 cases across the area.
Councillor Tony Buchanan acknowledged that the majority of residents are sticking to the rules, but urged others to do the same as we aim to avoid increased restrictions on our lives.
He said: 'People across East Renfrewshire have worked in partnership with us to tackle this terrible virus but in recent weeks the number of cases locally has been rising.
'We continue to need your help to ensure everyone keeps to the rules. If we all do our bit, the number of people becoming ill will fall and we will not be put under even tougher restrictions than those we face currently.
'Today (Thursday 29 October) we will learn what level of protective measures East Renfrewshire will face from Monday (2 November) as part of the Scottish Government's five-level approach to tackling the spread of Coronavirus.
'I and other council leaders have been consulting with ministers and senior officials in recent days as these plans have been finalised.
'Once details of what level we are in are confirmed I urge everyone in East Renfrewshire to make sure they know what the rules are and to stick to those rules. If we don't make this collective effort, we will face tougher restrictions which will impact individuals, families and businesses.
'Please stick to the rules, help stop the spread of the virus, help save lives and stay safe.'
Last modified on 6 January 2022