Key East Renfrewshire road set for Safer Spaces for People
Spaces for People project progresses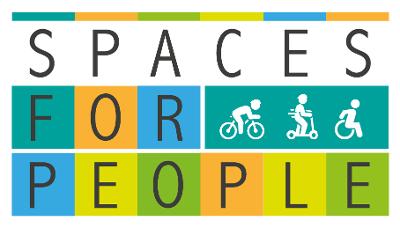 Published 3 December 2020
A key route through East Renfrewshire is set to become a safer place for people to walk, cycle and wheel as the Spaces for People project progresses.
We secured £1million of Scottish Government funding for measures across the area aimed at making active travel safer for residents while maintaining social distancing.
The decision to install protective measures on the A77 creating a physical barrier between the road and cycle lane follows strong public support to safeguard the existing cycle lane on Ayr Road and Fenwick Road, making it safer and easier for people to walk, cycle and wheel during Covid-19.
Temporary measures on Ayr Road, which will get underway on Monday 7 December, will initially involve traffic management measures and, following a trial period, will be replaced with a permanent installation. In addition, the trial will be supported by a mandatory cycle lane road marking, replacing the existing advisory markings in order to discourage parking within the lane. Along with Police Scotland, we are also exploring reducing the speed limit from 40mph to 30mph in order to improve overall road safety.
In addition to Ayr Road, work on a temporary bike and roll lane on Fenwick Road, south of Giffnock will follow later in December. This aims to create a safer route for essential journeys and exercise.
All of the Spaces for People measures will be continually reviewed and the public are encouraged to send their views to spacesforpeople@eastrenfrewshire.gov.uk.
Feedback on the measures can also be submitted through our Spaces for People website (opens new window) .
Environment Convener, Councillor Alan Lafferty, said: 'We had a fantastic response to our Spaces for People consultation, so I am delighted to see these initial two projects moving forward. These measures on Ayr Road and Fenwick Road will not only help reduce pressure on public transport and unnecessary car journeys, but it will also help people stay safe while walking and cycling, as well as promoting an active and healthy lifestyle. We will continue to monitor these new measures once they are introduced to assess how they are operating, and we welcome any feedback from the public.'
Last modified on 7 December 2020