East Renfrewshire school first to scoop gold in pioneering mental health award
Mearns Castle High praised for its outstanding mental health and wellbeing provision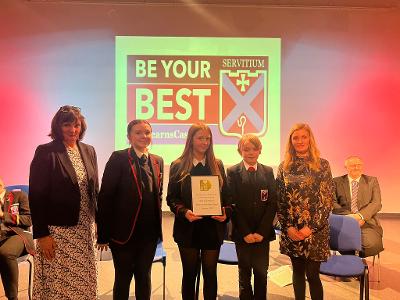 Published: 1 February 2023
An East Renfrewshire secondary school has become the first in Scotland to achieve Gold standard in the School Mental Health Award.
Mearns Castle High School, in Newton Mearns, has been awarded a Gold standard in the scheme, which is delivered by the Carnegie Centre of Excellence for Mental Health in Schools, for its outstanding mental health and wellbeing provision.
The school provides a wide range of universal and targeted activities to boost the wellbeing of pupils and staff. This work has included the establishment of a dedicated and fully staffed Wellbeing Hub, delivering one to one sessions, group work and a variety of whole school wellbeing activities.
The school is also partnering with Professor Chris Williams at the University of Glasgow to deliver a ground-breaking pilot programme, training parents in approached based on cognitive behavioural therapy to support family wellbeing.
The announcement that the school is the first in Scotland to clinch a Gold Award in this programme came on the day the school launched its new Mission, Vision and Values with the motto of 'Be Your Best', emphasising a holistic focus on wellbeing, wider achievement and skills alongside the school's record of strong academic attainment.
Stuart Clark, Mearns Castle High School Head Teacher, said: 'I am extremely proud of the way the whole school community promotes wellbeing on a daily basis. The introduction of a whole range of universal and targeted approaches to wellbeing has been hugely positive and it is incredibly inspiring to hear pupils and parents talk about the impact of this work. So many colleagues have worked hard in this area and the achievement of this award is well-deserved recognition for all of their hard work.'
The award was established in 2017 by the Carnegie Centre of Excellence for Mental Health in Schools - part of Leeds Beckett University - and social enterprise Minds Ahead.
The Carnegie Centre of Excellence for Mental Health in Schools aims to strengthen pupils' mental health by supporting schools to make a positive change at all levels of the UK's education system, improving students' outcomes and life chances.
Rachel C. Boyle, Dean of Leeds Beckett's Carnegie School of Education, said: 'The achievement of the Mental Health award is a demonstration of the school's significant commitment to improving children's and staff's mental health and wellbeing. It is also a commitment to developing practices in school that seek to improve awareness and expertise in creating safe and secure learning environments in which all children can truly fulfil their potential. This award is one that all staff can be truly proud of.'
Nationally, more than 1000 schools have signed up to take part in the mental health award.
Last modified on 3 February 2023