Domestic abuse service to mark International Women's Day
Women's Aid to host open day at Barrhead Foundry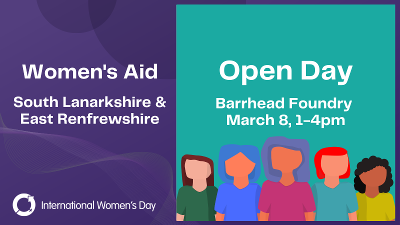 A service that helps women, children and young people with experience of domestic abuse in East Renfrewshire is hosting an Open Day to mark International Women's Day (March 8).
Women's Aid South Lanarkshire and East Renfrewshire (WASLER) moved to its new offices in Barrhead Foundry two years ago.
The drop-in event next month will be the first time the service has showcased what it offers since basing itself at the leisure centre.
A public venue is unusual in Scotland as a location for domestic abuse services, providing a base for wellbeing classes and advice groups.
Users who call in and request assistance can discreetly ask for 'Bonnie', prompting reception staff to alert the Women's Aid team.
If crisis help is required, women can be seated in a quiet space in the building for one-on-one support and assistance.
The service works alongside the domestic abuse team at East Renfrewshire Health & Social Care Partnership.
Separate to its office space at the Foundry, Women's Aid offer refuge accommodation located across East Renfrewshire to women, children and young people needing a safe place to stay.
Christine Miller at Women's Aid said her team is looking forward to hosting the event.
She said: "This is the first time we have held an Open Day for the Women's Aid service since we moved to our new offices at Barrhead Foundry. We thought International Women's Day was an appropriate day in the calendar to let people know that we are here and to explain some of the things that we do.
"Many women in East Renfrewshire have had their lives turned round by the support our team can offer. Not only do we provide crisis support but a range of services to help women, children and young people recover from domestic abuse and rebuild their lives."
East Renfrewshire Provost Councillor Mary Montague and Councillor Katie Pragnell, convener for- Health & Social Care at East Renfrewshire Council, are due to attend the Open Day.
Cllr Pragnell said: "International Women's Day is such an important date in the year and staging this Open Day for such an vital service is a fitting way to mark the occasion.
"I look forward to meeting the staff and finding out how women have been empowered to make positive changes in their lives."
Cllr Montague said: "International Women's Day is when we recognise the continuing campaign for gender equality and the work to end gender-based violence.
"It celebrates women's achievements including those of volunteer local women who worked with me to form the first East Renfrewshire Women's Aid group over 20 years ago. I am particularly pleased therefore to attend this event.
"My message to women is that you are not alone, and the local Women's Aid service provides confidential information and support, including refuge accommodation."
International Women's Day is a global awareness day that celebrates the social, economic, cultural, and political achievements of women.
With its origins in women's suffrage, this year's theme is Embrace Equity which highlights the belief that societies should recognise people's different needs in the fight for gender equality.
The Women's Aid Open Day is on Wednesday March 8, at the Foundry in Barrhead from 1-4pm.
Last modified on 27 February 2023