Electric vehicle charging tariffs to be introduced in East Renfrewshire
We've announced the introduction of tariffs and overstay charges for the use of public electric vehicle (EV) charging points in East Renfrewshire.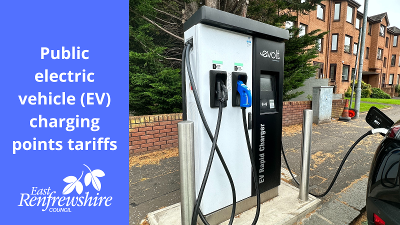 Published: 1 September 2023
The tariffs and overstay charges will be effective from 1 October 2023 and drivers will now have to pay to use standard and rapid chargers:
£0.40 per kWh for standard charging units (7kW to 22kW), £1.00 minimum fee
£0.70 per kWh for rapid charging units (50kW to 150 kW), £1.00 minimum fee. £1.00 per minute overstay charge after 60 minutes
We've subsidised the cost of electricity usage from our chargers since 2015 to incentivise car owners to move to electric vehicles.
Significant increase in demand for use of our 12 electric charging points has resulted in high costs to us for running the public EV charging infrastructure. With rising energy costs and plans to expand the network, the introduction of tariffs and overstay charges were given the green light by Councillors as necessary to ensure a financially self-sufficient network.
The tariffs will match the rates of Glasgow City Council, North Lanarkshire Council, and South Lanarkshire Council to avoid residents crossing to or from another local authority for preferential rates.
We formally declared a 'climate emergency' in October 2021, and have set actions including working towards the goal of zero emissions, with EVs key to achieving this.
Councillor Danny Devlin, Convener for Environment and Housing, said: 'The demand for electric vehicles is continually on the rise and it's great to see so many car owners have made the shift. However providing free EV chargers is no longer financially stable for the Council and is preventing private sector investment, which will play a major role in future expansion of the overall publicly available EV charging network. These changes will bring East Renfrewshire in line with other local authorities across Scotland whilst helping to reduce transport emissions and contribute to the Council's net zero target.'
Last modified on 1 September 2023