Report a missed bin
Find out what to do if you think we've missed your bin collection.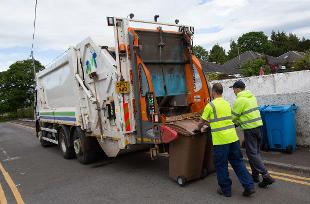 Service information
Use this service to tell us that we didn't pick up your bin on its collection day.
You can only report a missed bin:
after 3pm on your collection day
within 2 working days of your collection day
Before you start
Check our bin collection calendar to make sure your bin went out on the correct day.
Look for a sticker on your bin telling you:
there were wrong items in your bin
it was too heavy
it was an unapproved additional bin

garden waste was placed in your brown bin without a permit
If you've got a sticker, contact us to discuss a collection.
Please note, we'll try our best to collect your bin but this isn't always possible. You may be asked to remove items from your bin before it's collected.
How to report
What happens next?
Once we get your report, we'll check it against our records and arrange a collection within 2 working days.
If you've got a sticker, please take action to remove any additional or incorrect waste items and contact us.
Last modified on 10 January 2022