Report graffiti online.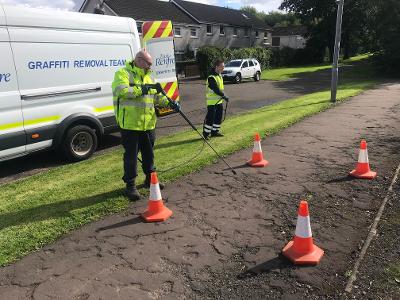 What you can report
Graffiti in a public place
We work closely with Scottish Power, Virgin Media and BT to remove graffiti from their utility boxes. If you see graffiti on another utility box, please report this to the company.
Tell us:
Location of graffiti
Type of graffiti
You can also upload a photo. This will help us to resolve the issue quicker and easier.
We can't remove graffiti on private property unless a disclaimer is signed.

Download a graffiti disclaimer [87.21KB].
Ring and Report helpline
You can also report graffiti by phoning our Ring and Report helpline on 0800 013 0076.
Lines are open 24 hours a day. Calls are free and confidential.
Contact us
Email: customerservice@eastrenfrewshire.gov.uk
Phone: 0141 577 3001
Last modified on 15 July 2020