Report road or pavement fault online. This includes, drains, potholes and flooding.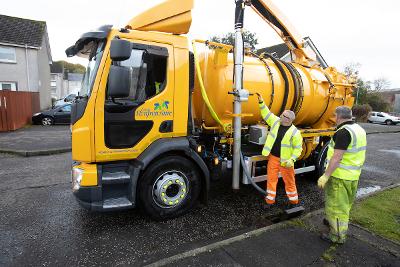 Our roads
Find out what roads we're responsible for in East Renfrewhire.
Report a non-emergency fault
You can report a fault with:
drains or gullies not working properly or causing flooding
missing ironwork such as drain or manhole covers
potholes in the road or pavement
water leaking onto a road or pavement
Report a non-emergency road or pavement fault
Report an emergency fault
Phone 0141 577 3001 during office hours.
Phone the Roads and Lighting Fault (RALF) helpline on 0800 373635 out of office hours and public holidays.
Fault response times
Fault type
Response time
Emergency
Within 2 hours

Non-emergency
Assessed and put into 2 categories

Category 1
8 working days
Category 2
Routine work

We report faults about water, sewers, gas, electricity and water to organisations who look after these.
M77 and A726 roads
These roads are looked after by private contractor - Connect Roads.
Phone Traffic Scotland on 0800 028 1414 for any enquiries.
Contact us
Email: roads@eastrenfrewshire.gov.uk
Phone: 0141 577 3001
Last modified on 18 August 2020