New East Renfrewshire gift card is the perfect Christmas present
East Renfrewshire shoppers have the opportunity to back local businesses and keep shopping local with a brand new gift card, launched just in time for Christmas.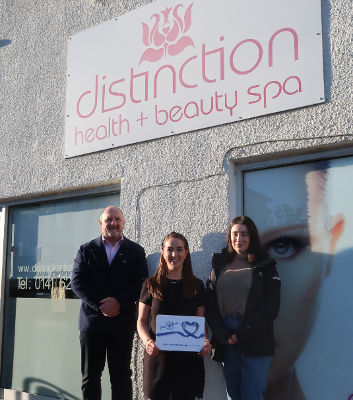 Published: 8 November 2021
Led by Scotland's Towns Partnership, the new Scottish Government-funded Scotland Loves Local Gift Card encourages residents and visitors to East Renfrewshire to keep spending local for longer.
The new local gift card can be bought online at scotlandgiftslocal.com and provides shoppers with the perfect Christmas present. From jewellery, beauty treatments and clothes - to single malt, homeware and meals out, there's plenty of choice on offer from amazing local businesses across the area.
Employers are also being urged to back other companies in their area by using the gift cards as part of their corporate rewards programme.
East Renfrewshire Council, along with the local Business Improvement Districts (BIDs), are supporting the rollout of the gift cards as businesses work to recover from the economic impact of the Covid-19 pandemic.
To mark the launch of the gift card, Council Leader, Tony Buchanan visited Distinction Health and Beauty Spa in Clarkston, who have signed up to the new scheme.
Council Leader, Tony Buchanan said: "This is a fantastic new initiative and I am really pleased to see so many local businesses, like Distinction here in Clarkston, get involved. The impact the pandemic has had on the economy in East Renfrewshire cannot be underestimated. And, with Christmas just around the corner, what better gift than that of supporting local businesses, who have never needed our support more."
Katie McClay from Distinction Health and Beauty Spa said: "When we were given the opportunity to join the East Ren Gift Card it was an easy decision. After the past year the importance of shopping local has been more important than ever. Clarkston has some amazing independent business that will thrive if everyone shops local. It is the perfect Christmas gift for anyone and Distinction looks forward to welcoming new and existing clients."
Andy Dunlop, Business Improvement District Manager for Clarkston and Barrhead added: "East Renfrewshire has an amazing range of businesses offering unique and high quality products, so if you're lucky enough to get one of the gift cards this Christmas, then you are spoilt for choice. It is more important than ever to back our local businesses and buying this new gift card is a perfect opportunity to do so. And I would encourage any business who reads this to get signed up if they haven't already done so - it's free, quick and easy to do so."
The new gift card can be purchased at scotlandgiftslocal.com/product/east-renfewshire-gift-card/ and if you're interested in getting your business involved, visit scotlandgiftslocal.com/business-sign-up/.
Last modified on 25 November 2021