Members of the Scottish Youth Parliament elected in East Renfrewshire
The results of the 2021-23 Scottish Youth Parliament (SYP) elections for East Renfrewshire were announced at an event at Eastwood House yesterday (22 November).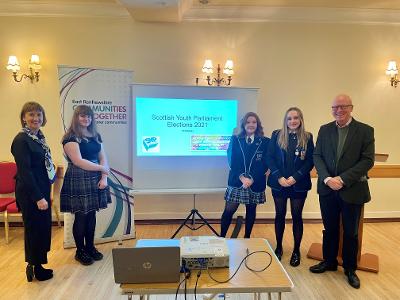 Published: 23 November 2021
The SYP constituencies mirror that of the Scottish Government. East Renfrewshire has three seats in total, two in Eastwood and one in Renfrewshire South.
The following candidates were successfully elected as Members of the Scottish Youth Parliament (MSYPs):
Lily Frame, Eastwood constituency
Ashley Kee, Eastwood constituency
Kym Wilson, Renfrewshire South constituency
The SYP is the democratic voice of Scotland's young people and elections are held every two years in all 32 local authorities and a range of voluntary organisations.
Young people aged 12-25 across East Renfrewshire had the opportunity to vote for the MSYPs who will represent their views on local and national issues for the next two years.
MSYPs range in age, from 14-25, and listen to and recognise the issues that are most important to young people in every community across the country, providing a platform to ensure that decision-makers listen to their voices.
Caroline Innes, Deputy Chief Executive and Returning Officer for this year's election, said: 'It has been great to see so many young people standing to become elected to the Scottish Youth Parliament this year. MSYPs play a vital role in East Renfrewshire as they campaign on important issues to young people in the area and help to make changes. This election has come at a time when young people's views are even more crucial, all of our lives have really changed since the last election and we have all had to adapt as a result of the Coronavirus pandemic. Over the last two years, our MSYPs have had a really positive impact on young people in East Renfrewshire, so I'm looking forward to seeing our newly elected members making a real difference across the area. Each and every young person who stood to become elected should be very proud of the fantastic campaigns they have delivered, and thank you to every young person who took the time to vote.'
The voting period ran from 8 - 21 November, with young people from across the authority casting their votes using the single transferable voting system. The successful candidates will officially become MSYPs when they take their seat at the end of the month.
Any young person who may be interested in having a voice in East Renfrewshire and take action on issues that are important to them can become part of ER Youth Voice. The group runs on a Tuesday from 6.30pm-8.30pm in The Museum, Barrhead.
For further information please contact 0141 577 3134 or email YPSenquiries@eastrenfrewshire.gov.uk.
Last modified on 26 November 2021