Council sets budget for 2023/24
Savings gap closed and key frontline services saved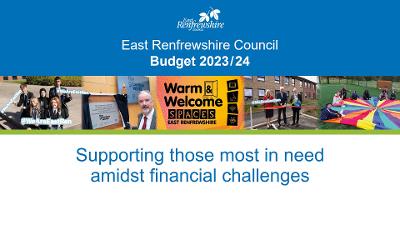 Published: 1 March 2023
The Council has set its budget for 2023/24, with a range of vital frontline services saved from proposed cuts, despite the unprecedented financial challenges faced.
Council Leader Owen O'Donnell outlined the spending plans for the year ahead at a meeting of the full council today (Wednesday 1 March).
A range of measures were used to close this year's £18.1m budget gap, including raising Council Tax. Agreeing a Council Tax increase of 6% - almost half the rate of inflation - will mean an annual increase for a Band D property in East Renfrewshire of £80.11, the equivalent of £1.54 a week.
Councillor O'Donnell emphasised that the feedback from the budget engagement process held in the autumn had been taken on board when making the tough decisions needed.
And whilst recognising the challenges the current cost of living crisis is placing on households across the area, he said residents had made it clear they were prepared to pay slightly more in Council Tax in order to protect vital services.
The Council Tax increase and use of reserves meant £4.1m of savings will be required for 2023/24, though some savings proposed in the meeting papers were not taken.
Councillor O'Donnell said: 'The unfair local government settlement will have severe and far-reaching consequences on Council budgets. We have had to take very difficult decisions on what savings to make and on increasing Council Tax, but have closed our budget gap and balanced the books. More than 1,700 people shared their views with us as part of our budget engagement process - the biggest response we've ever had to an exercise like this in the Council's history. Many people told us they were prepared to pay a little bit more in Council Tax so long as vital services are protected, and we have delivered on that. I am delighted that as well as removing the proposed saving impacting our additional support needs pupils, we have also added £60,000 of new investment to support our most vulnerable children with complex needs. This year we have also protected teacher numbers, Pupil Support Assistant numbers and the length of the school week.'
The grant settlement received from the Scottish Government was £223.1m which, after ring-fenced funding for national initiatives and a bigger rates bill for council buildings, left East Renfrewshire with just a 0.4% increase on a like-for-like basis on last year's settlement.
Councillor O'Donnell also outlined the significant capital projects which the Council has delivered and announced a five-year fund starting in 2024/25 worth £3.5m-a-year to improve the condition of local residential roads.
Councillor O'Donnell added: 'Spiralling inflation and soaring energy costs have combined to cause genuine hardship for many of our residents and they have rightly looked to their local council for support. I am immensely proud that we have been able to provide practical support, putting money in their pockets to help with food bills. This Cost of Living package, which was funded by Covid-recovery money from the Scottish Government, also supported the creation of a network of Warm and Welcome Spaces. We will continue to support those most in need and continue to plan for the future, building more new schools and council houses, caring for older people and delivering on the issues which matter most to our residents. Despite the very real financial challenges faced by this Council, our priorities will continue to be supporting the most vulnerable people in our communities and I remain optimistic and determined that we will be able to build a better future for all our residents.'
The SNP opposition proposed an alternative budget but following a vote, the Labour/Independent administration's Budget motion was approved and will now be taken forward by the Council.
Council Leader's speech
A transcript of the Leader's speech and the accompanying presentation slides are available below, as well as the approved budget motion and the budget enagement feedback:
Council Leader's Budget speech 2023-24 (PDF) [630KB]
Budget presentation 2023-24 (PDF) [4MB]
Approved budget motion (PDF) [468KB]
Budget engagement feedback (PDF) [909KB]
Last modified on 1 September 2023