Highest ever number of school leavers take positive next step
Latest figures show 98.5% have gone on to university, college, work or training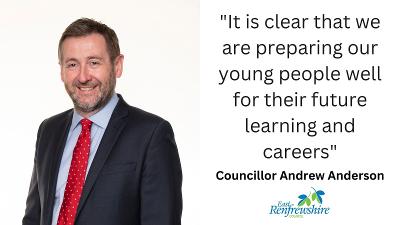 Published: 14 March 2023
The highest ever number of pupils leaving East Renfrewshire schools went on to university, college, work or training, the latest figures have revealed.
A total of 1,430 young people left East Renfrewshire schools in 2021/22, and in statistics published by the Scottish Government it has been confirmed that 1,408 (98.5%) had made a positive next step in their development.
This is the highest proportion ever recorded in East Renfrewshire, with the previous best being 97.7%. And it also exceeds the national average of 95.7%.
The number of school leavers going on to Higher Education (university or an equivalent level of study) was 998 (69.8%), with 177 (12.4%) pupils progressing to Further Education (college or an equivalent level of study), 204 (14.3%) getting a job, and 29 (3.5%) taking training courses, personal development programmes and volunteering.
In all of East Renfrewshire's schools, almost all school leavers achieved a positive destination. In Barrhead High, 100% of their school leavers moved into a positive destination, with over 99% of St Luke's High and St Ninian's High pupils also doing so.
Councillor Andrew Anderson, Convener of Education, Equalities, Culture and Leisure, said: 'Our schools are recognised as being some of the best in the country, so it is extremely pleasing to see that our pupils' are building on all their excellent experiences and taking this into the next stage of their learning. It is notable that in Barrhead and St Luke's, despite serving communities that experience higher levels of poverty, proactive partnership working has led to these significant achievements. These figures reflect very well on our young people and the support they receive from school staff working in partnership with Skills Development Scotland colleagues and our education department's Developing the Young Workforce team. It is clear that we are preparing our young people well for their future learning and careers and will continue to work to support the small number still looking to make that next step.'
Last modified on 31 March 2023