Installation of smart doorbell systems aim to protect residents from scams
A new project has launched to help residents in vulnerable situations, who are experiencing a high number of cold callers or have been a victim of a scam.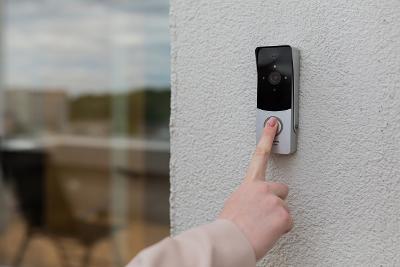 Published: 9 March 2023
Smart video doorbell systems - such as the popular Ring doorbell - are being provided to East Renfrewshire residents who meet a range of criteria free of charge. This also includes free fitting via Care and Repair.
Eligibility is based on an individual case basis with criteria based around vulnerability, financial harm and scams, with 36 units rolled out to date.
Upon successful referral, Trading Standards and Care and Repair would visit the property to install the device. An app would be installed on the resident's phone or tablet and Trading Standards would discuss any other measures which can be put in place to help potential vulnerabilities. This includes supporting residents to ensure the correct privacy settings are in place when the system is set up.
Councillor Danny Devlin, Convener for Housing and Environment, said: 'A smart doorbell is a great way to keep your home safe and secure. These video doorbell systems have a range of benefits for your home, over and above home security, with many using them to watch over their elderly or vulnerable family members and protect them from doorstep callers.
'A video doorbell lets you see who is knocking at your door without answering it and say no to cold callers without having to engage in conversation. The majority of people who knock on your door are likely to be genuine, but at times rogue traders are in the area with the intention of trying to get consumers to pay for unnecessary or substandard work in their home.
'This project has numerous benefits and will help many of our residents to remain independent, whilst feeling safer in their own homes, giving themselves and family members peace of mind.'
If you think you or a family member would benefit from having a video doorbell installed, email preventionteam@eastrenfrewshire.gov.uk or phone 0141 577 3782.
Read our self-help financial harm toolkit for advice on how to stay safe and avoid scams.
It contains useful information on many areas including doorstep crime, email scams, living with dementia and scams, unwanted mail, online shopping, financial abuse, power of attorney and much more.
Trading Standards also install nuisance call blockers free of charge to vulnerable residents. If you or a family member are receiving high numbers of nuisance calls, visit call blockers webpage, phone or email to apply and discuss the range of bespoke support available.
Last modified on 14 March 2023