Flu programme commences
Community clinics are ready to support East Renfrewshire.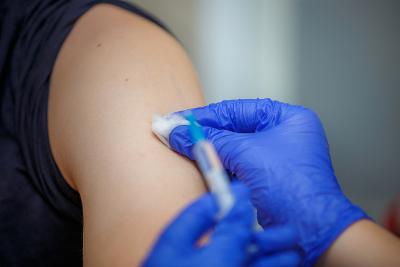 Published: 29 September 2020
East Renfrewshire Health and Social Care Partnership (HSCP) is ready for its biggest flu vaccination programme to date, in a bid to protect residents this winter.
Most residents will be treated at one of four community vaccination clinics located at Eastwood Health and Care Centre, Barrhead Health and Care Centre, The Avenue shopping centre in Newton Mearns and Glen Community Hall in Neilston.
The HSCP is planning to administer the vaccination to over 18,000 people at these clinics in the coming weeks.
For the first time, people aged 55-64 are eligible for a free flu vaccination. So, this year, if you are aged 55 or over, you have an existing health condition, are pregnant, or work in healthcare, you are eligible for the vaccine.
The vaccine will also be offered to children aged 6 months to 2 years with a health condition that puts them at risk of flu, to all pre-school children aged 2 to 5 and to all primary school age children.
The clinics will be run on an appointment only basis with strict social distancing and infection control procedures in place. Letters have started to go out and over the next 8 to 10 weeks those aged 65 and over, as well as those most at risk, will be prioritised. Other eligible groups will receive their appointment letters toward the end of this initial 8 to 10 week period.
GPs will continue to deliver the vaccination to those most at risk and letters will be sent out from practices in the coming weeks also.
Residents are asked not to contact their GP or the HSCP unless they have received a letter asking them to do so. Those who receive an appointment are asked to try to stick to the date and time they are given to avoid any delays to getting the vaccine caused by rescheduling, and not to worry if they've not yet received an appointment - it could be towards the end of this initial 10 week period before their letter is issued.
Primary school children will get their vaccine at school and will be sent home with a letter and permission slip.
Dr Deirdre McCormick, Chief Nurse at East Renfrewshire Health and Social Care Partnership, said: 'Last year, thousands of people in Scotland ended up in hospital because of flu. That's why having your flu vaccine is so important if you are eligible.
'Flu is very infectious and the vaccine is the best available protection against the virus. It's very safe, does not give you flu, only takes a few minutes and will last around a year.
'The community clinics mean we can treat more people, support GPs to focus on those most in need and offer a safe place for our residents to get vaccinated.'
Councillor Caroline Bamforth, Chair of the East Renfrewshire Integration Joint Board, added: 'Now more than ever it is important to be vaccinated against seasonal flu and if you're invited to get the vaccine, I would encourage you to take up the offer.'
More information about the vaccine and eligibility can be found at nhsinform.scot.
Last modified on 3 November 2020