TV personality supports Council's Shop Local campaign
TV personality Jennifer Reoch is getting behind East Renfrewshire Council's campaign to encourage more people to Shop Local.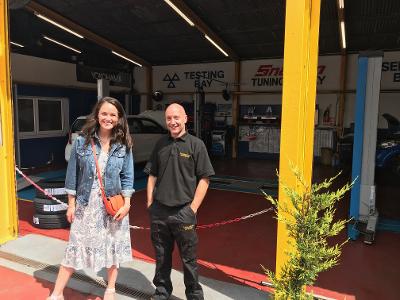 Published: 3 September 2020
Due to the impact of the coronavirus pandemic, local businesses have been under immense pressure this year and need local people to support them now more than ever.
The council has already supported over 800 local businesses by distributing almost £9.5 million in grants and supplying a Business Recovery Toolkit, including social distancing materials, risk assessments and accredited training to help them reopen safely.
And now that more businesses are open, the council has launched a campaign to ask residents to Shop Local to help our communities recover.
A series of videos featuring TV and radio presenter Jennifer Reoch have been created for social media to showcase the fantastic range of businesses on offer across the area.
Jennifer Reoch, who is also a former Woodfarm High pupil, said: 'Really think about whether you could shop local more - there's so much on offer from butchers, florists, cafes, restaurants - to gifting, flooring and bathrooms, car garages, clothing, shoes to hairdressers and beauty salons. If you could support some of these local businesses more often, please do and help our businesses, our streets and our communities to thrive.'
Council Leader Tony Buchanan added: 'We are fortunate to have a great selection of local businesses across East Renfrewshire and we need to shop local in order for the business to get back on their feet and remain open. The coronavirus pandemic meant many businesses were closed for months and without local support and spend, these businesses and their staff could be at risk. When you shop local you're backing local business owners and their families, supporting local jobs and helping our communities recover from the pandemic. These videos are just one step the council is taking to help businesses and our local economy during this difficult time. We're also developing a wide range of other business support interventions and if any business owners are struggling, we would encourage them to speak to our business support team. Our Business Gateway team continues to provide free quality, practical advice and guidance to new and existing businesses in the area. Similarly if you're job searching, our employability service Work EastRen can not only help you search for jobs but help you figure out what type of job you might be suitable for, help find and pay for suitable training courses and even help with CVs, applications and interview techniques.'
To contact the council's business support team, email business@eastrenfrewshire.gov.uk and for more information about Work EastRen, go to workeastren.co.uk
You can also now nominate the person, business or organisation which has gone the extra mile to help East Renfrewshire communities at a time when their help has never been needed more through the national High Street Heroes Awards. Organised as part of the Scotland Loves Local campaign, nominations can be made at lovelocal.scot/high-street-heroes.
Local business owner Paul Martin, of C&M Motors in Barrhead, said: 'It makes you proud that people in the local area want to use you. That's what makes your job more worthwhile.'
Video links:
Last modified on 28 October 2020