East Renfrewshire celebrates Pride
Progress pride flag will fly at Eastwood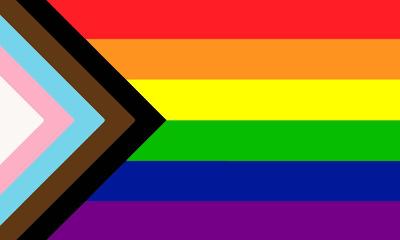 Published: 17 September 2020
East Renfrewshire Council's annual celebration of Pride begins on Wednesday 23 September to promote positivity towards the LGBTI community.
LGBTI Pride celebrates sexual diversity and gender variance. It aims to end discrimination and violence towards lesbian, gay, bisexual, transgender and intersex people, promoting their self-affirmation, dignity, rights, and their visibility as a social group.
The progress pride flag, donated by Unison's East Renfrewshire branch, will fly at the Council's Eastwood HQ from Wednesday 23 September, and on the same day Eastwood Park Leisure Centre will light up in pride colours. A variety of inspiring messages and videos will also be posted online for everyone to view.
Due to Covid-19 and the restrictions in place, the annual pride march won't be taking place as it normally would, however, the public are welcome to walk the route at a time suitable to them, so long as the current restrictions are observed - no more than six people from two households, socially distanced. The route starts at Barrhead train station, goes along Barrhead Main Street and finishes at the Cowan Park bandstand.
If anyone is posting their own celebration of Pride in East Renfrewshire on social media, use the hashtag #PridER so the online community can follow along from home.
Councillor Paul O'Kane, Convenor for Education and Equalities, said: 'It is great to see so much support in East Renfrewshire for the LGBTI community and the activities planned. Although we cannot celebrate Pride in person, together, as we would normally, the raising of the rainbow flag symbolises diversity, acceptance and the pride we have in all of our local community, so it will be fantastic to see it fly above our Eastwood Headquarters to mark this important occasion. This year I am particularly pleased that we are flying a new flag which includes colours representing transgender pride and BAME LGBTI people, this is thanks to the shared leadership of Pride here in East Renfrewshire with young people and our Trade Unions. I hope that despite our present challenges as a country and community - wherever you are in East Renfrewshire you will feel a sense of togetherness - the spirit of what Pride is all about.'
Last modified on 3 November 2020